Top Mobile app development agency.
A top mobile app development agency is the need for every business that wants to achieve the next level of services for its employees and clients. Brain Studioz is one of the best Mobile app development agency in the USA.
We have developed the reputation of being a top-rated Mobile app development agency with our extensive experience. Brain Studioz delivers our services like a mobile app development company, the USA for more than a decade.
We provide solutions for the complete mobile app development cycle, starting from concept to launch and marketing. The use of cutting-edge technology made our app developers more diverse in the industry of mobile app development.
The mobile phone as already taken over the computers for the usage of the internet. In the modern era, mobile phones are not just a need it becomes a necessity. It's hard to visualize life without mobile phones.
Perfection or nothing is what makes us more dependable among our clients. We believe in striking the right chord at the right time with your business requirements.
The trends in the mobile app development domain are vulnerable to new tactics, tools, tricks, and procedural renovation. Staying ahead in modern technologies is what we do.
Why Chose Brain Studioz.
Brain studioz is providing mobile application development services in application development space for more than a decade. We are a professional mobile application development agency in the USA.
With cutting-edge technologies, mobile development services are the specialty of our development wing. We provide mobile app development services for affordable prices.
Our experienced team of application developers has extensive experience and market knowledge. As being a mobile app development agency, we develop an application that suits all your needs.
The budget is not the issue. Contact our sales experts today, brief them about the idea of your mobile application design and let us do the rest of the world.
Selecting a dependable Mobile app development agency.
When businesses opt to develop a mobile application for themselves, they consider it full of features, all the information that their consumers and looking for more importantly a great User interface.
In reality behind every simple and good-looking mobile application is a complex technology architecture and flawless code, and elegantly engineered to deliver a smooth experience.
Being a dependable Mobile app development agency, our target is to develop a mobile application with the latest technological procedural manner that fulfills the complete needs of our client's goal.
We offer our services in different platforms for the mobile application development. Such as.
• iOS development services
• Android development services
• Enterprise solutions services
• Game development services
• Hybrid application development services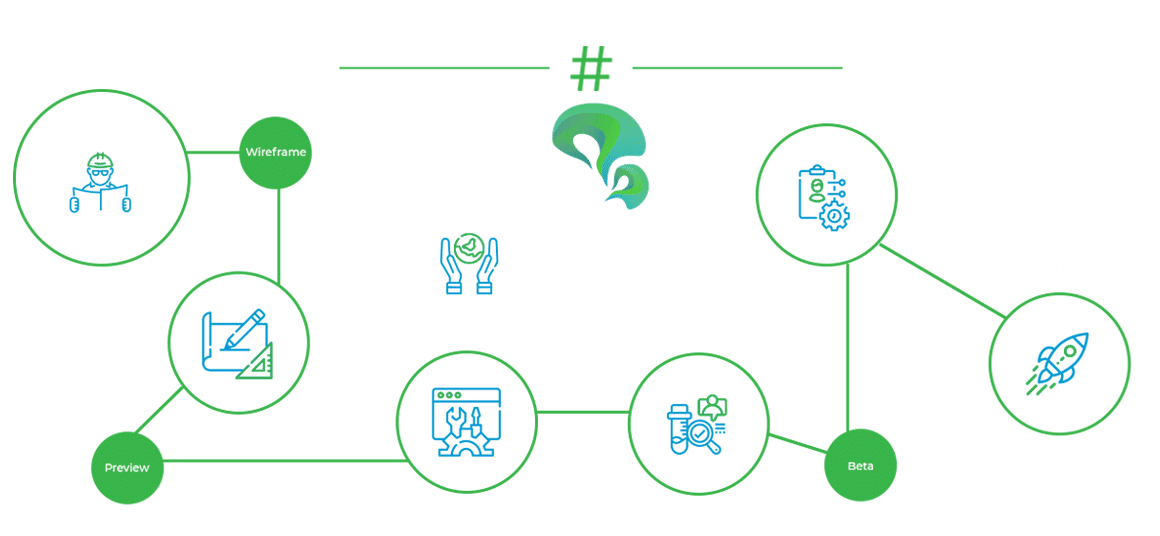 Our Mobile Application Development Procedure.
Analyzing and brainstorming
Learning the odds
We start our mobile application development process from you. We conduct interviews with stakeholders to understand your plans, motives, goals you want to achieve.
We conduct extensive research on your audience, trends, identifying their needs, best practices, and notable successes. Analyze flaws and provide a solution to their problem.
During this process, our BA team determine the high-level features and functional and non- functional requirements of your project.
We analyze how other mobile applications are solving your user's problems and how your product can differentiate itself from the pack.
UI Design
Inspiration visual
We start phase of visual design keeping in mind what motivates you to inspire you what moves you and what doesn't.
Next, our creative design teams get on board and start crafting an on-brand visual identity for your app.
User interface we design is convenient, simple, and comprehensible as this is the first thing that your users experience. We stay on focus on balancing between app design and its functionality.
Development and launch.
Into the wild
As soon we get your approval on UX and UI mockups, we start the development process which is another area of our expertise, and the final phase before the launch of the application.
Our mobile application development process consists of continuance interactions with our clients in every step. We develop every stage being on the same page.
UX Design
Crafting with experience
As soon we gather the information from our client and audience. Our UX teams develop personas and user journeys to break down who will use the app and how will they use it.
We develop prototypes to make sure that the project looks and feels native to platforms and delivers a precise positive user experience.
Task Flow allows us to define exactly what features are required to support users across their user experience.
A flow chart creates an experience, screen by screen, through the use of wireframes. These help us visualize the layout and understand the key user interaction with the application.
Testing process.
Test, rectify and repeat
The user testing process is an essential part of any project. The group of key users goes hands-on with the prototypes and beta versions from an early stage.
The purpose is to check the behavior and collect feedback from the user throughout the process.
We use this important information to develop and good user experience, check weather app server the purpose completely and optimize the product.
Finally, your mobile application is launched, but our work isn't finished yet. Our team is ready to support your app handle updates, improvements, add new features dedicated support and none the less with marketing across all major channels.
CONTACT US
Give us a call, send us an email or a letter - or drop by to have a chat. We are always here to help out in whatever way we can.
CONTACT DETAILS
ADDRESS

93 Worth St, New York, NY

PHONE

+1-214 509 6553
+44-207 097 5251

EMAIL